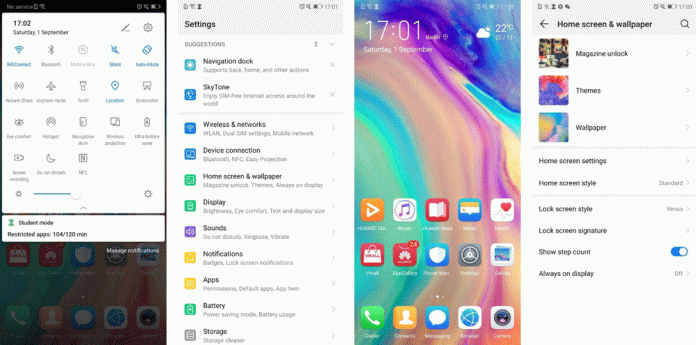 In September, Huawei announced its new interface, EMUI 9.0, which came with a lot of great features. We will review some of these major features in this article, then make a list of all the phones that will get the new interface, knowing that the phones that will get The interface is not only Huawei phones but Honor phones as well, and its brand, which is still followed in its own interface so far.
Huawei P30 Pro: 12GB of RAM with 5 Cameras, Release Date, Price, and Phone Specifications
Improved Gaming Performance:
The new interface supports the GPU Turbo 2.0 technology promoted by Huawei over the past period as well as its Honor brand, especially for the Honor Play gaming phone. This technology will dramatically improve gaming speed and users will enjoy a very satisfactory gaming experience both on speed and screen response To touch.
Password Vault:
This is a new security-related feature that allows phone users to dispense with their passwords by accessing their personal accounts and dispensing them by footprint, fingerprints or face tags.
Digital Balance:
This feature is as follows
– Select the time you want to allocate for each application.
– Assign a certain category to a certain time, for example, you can decide to use the games for two hours a day.
It is worth noting that this feature is available in iOS 12, as it can tell you when to use the phone at the end of the day and not generally tells you that you used the phone for 4 hours, for example, but it will give you a very detailed report about The duration of each application, as well as the number of notifications each application has sent to you to help you organize your time later and pay attention to applications that consume your time.
Wind Dow:
This feature makes users relax properly before bedtime and provides adequate lighting for the phone before bedtime.
Huawei has strengthened its position as the second largest mobile phone maker
Phone Performance:
The EMUI 9.0 interface will be much faster than the previous interface and an application experience such as Instagram has been made and the application has become 12% faster than the old interface. The complaint we mentioned at the beginning of the article has now been relatively solved with the new interface.
This is the most important features of the new interface of Huawei The phones that will get this interface is about 30 smartphone from the company and here is the list:
Huawei Mate 10 Porsche Design
Huawei Mate 10 Pro
Huawei Mate 10
Huawei Mate 10 lite
Huawei Mate 9
Huawei Mate 9 Pro
Huawei Mate 9 Porsche Design
Huawei P20
Huawei P20 Pro
Huawei P20 lite
Huawei P10 Plus
Huawei P10
Huawei nova 3
Huawei nova 3i
Huawei nova 3e
Huawei nova 2s
Honor Magic 2
Honor 8X Max
Honor 8X
Honor 10
Honor View 10
Honor Play
Honor 9
Honor 7X