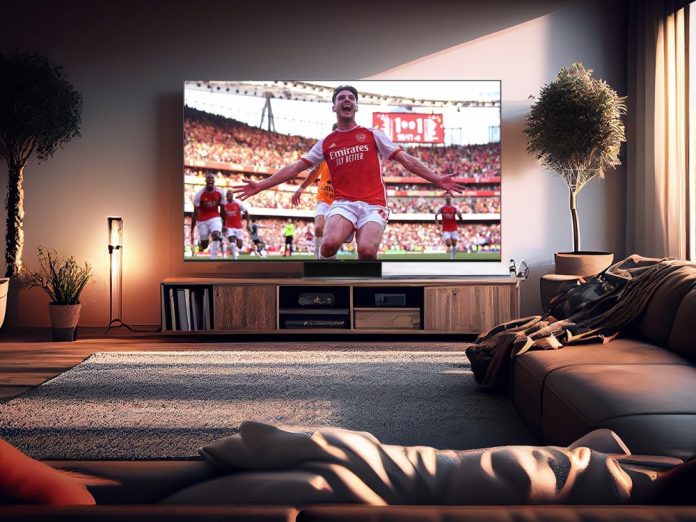 Sports, transcending the boundaries of culture and generation, possess the unique power to unite millions in their shared passion. It's more than just a game; it's an emotional journey that brings people closer.
What better way to immerse yourself in the exhilarating world of sports than by converting your living room into a thrilling arena? In today's world, where sports offer more than mere entertainment, selecting the right TV for your living space is a pivotal decision.
It's about more than just watching a game; it's about experiencing every electrifying moment as if you were among the roaring crowd, fervently cheering for your beloved team.
Why the Perfect TV Matters for Sports Enthusiasts
1. High-Resolution Viewing: The ideal TV should offer a high-resolution display, such as 4K Ultra HD, tailored for sports lovers. This feature enables viewers to relish unmatched clarity, allowing you to track the ball's every move and all on-field details with precision.
2. Exceptional Refresh Rates and Motion Enhancement: For an enhanced viewing experience, your TV should boast exceptional refresh rates, such as 144Hz VRR and 240Hz DLG, alongside advanced motion enhancement technology. These features ensure silky-smooth visuals, eliminating motion blur and enabling you to follow every sporting moment with precision.
3. Immersive Visuals with HDR and Dolby Vision: Elevate your viewing experience with High Dynamic Range (HDR) and Dolby Vision, setting new benchmarks for picture quality. The vivid and lifelike colors are perfect for capturing the subtleties of sports matches played in diverse lighting conditions.
4. Low Input Lag for Real-Time Action: TVs equipped with low input lag technology guarantee minimal delay in displaying real-time action. This responsiveness elevates your sports-watching experience, ensuring you never miss a crucial moment.
5. Immersive Audio: Feel the stadium's excitement with immersive audio support, such as Dolby Atmos. This feature allows you to immerse yourself in the crowd's cheers and expert commentary, making every match feel larger than life.
6. Smart Viewing: A TV should come equipped with smart features, offering access to a wide array of streaming apps and services. Seamlessly stream live sports matches and access sports-related content and highlights.
7. Tailored Sports Mode: The perfect TV should include a dedicated sports mode, optimized specifically for sports content. This enhances your sports-watching experience with optimized picture and sound settings.
8. Multiple Connectivity Options: For a versatile viewing experience, your TV should have multiple connectivity options, allowing you to connect various devices simultaneously. Easily switch between gaming consoles, cable/satellite boxes, and streaming devices for comprehensive sports coverage.
9. Large Screens for Immersive Action: Immerse yourself in the sports action with large screen options, ranging from 55 inches to 75 inches, ensuring you get a front-row stadium experience from the comfort of your living room.
The Top Choice for Sports Enthusiasts: TCL's C Series
After extensive research and considering brands like Samsung, Hisense, and TCL, we have concluded that TCL's C Series stands out as the ultimate choice for sports enthusiasts. This recommendation is further solidified by TCL's strategic partnerships with prominent entities such as the Pakistan Cricket Board (PCB), Arsenal Football Club, and their involvement in the world of esports, particularly with Call of Duty.
TCL's C Series offers:
– 4K UHD Resolution: Impeccable picture quality for a lifelike viewing experience.
– Impressive High Refresh Rate: Smooth visuals with motion enhancement for an uninterrupted sports experience.
– HDR and Dolby Vision: Captivating imagery that replicates the nuances of sports matches played in varying lighting conditions.
– Low Input Lag: Real-time action with minimal delay.
– Dolby Atmos Sound: An immersive audio experience that transports you to the heart of the stadium.
Additionally, its smart TV features, voice control, and a dedicated sports mode ensure an unparalleled sports-watching experience. Whether you're following a sports match or indulging in any other sporting event, TCL is the go-to choice for turning your living room into a sports haven.
Visit TCL's website here to explore their offerings and start your journey toward transforming your living room into a sports enthusiast's paradise. Your favorite teams and athletes await, and now you can be right there with them, in the comfort of your own home.