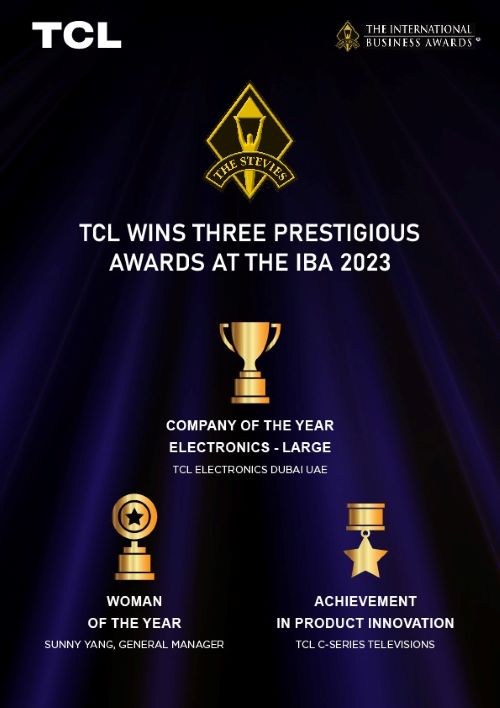 In a resounding victory, TCL Electronics has awarded as the proud recipient of prestigious awards at the 20th International Business Awards 2023. The company has been crowned the Electronics Company of the Year, solidifying its position as a global leader in the technology domain.
The remarkable achievement includes a Gold Stevie Award in the category of Large Electronics Company of the Year. This accolade resonates with TCL's commitment to pushing boundaries, setting new industry standards, and consistently delivering high-quality products and exceptional customer experiences.
Adding to the triumph, Ms. Sunny Yang, the accomplished General Manager of TCL MEA, has been awarded the Silver Stevie Award for Woman of the Year. This recognition not only applauds her remarkable leadership and vision but also positions her as a powerful role model for women in the business world.
Moreover, TCL Electronics' dedication to innovation and cutting-edge products has been acknowledged with a Bronze Stevie Award for Achievement in Product Innovation. This award highlights the excellence of TCL's C-Series Televisions, which seamlessly blend advanced technology with user-centric design.
The winners were meticulously selected through a rigorous evaluation process involving over 230 global executives. Their judgment was based on accomplishments, contributions, and impact across various categories, sifting through more than 3,700 nominations from organizations of all sizes.
In response to this achievement, Ms. Sunny Yang expressed her gratitude, saying, "This recognition is an affirmation of our guiding philosophy at TCL, to inspire and empower people to pursue greatness in their lives." She dedicated the win to the entire TCL family, acknowledging their hard work and passion that made these accomplishments possible.
TCL Electronics' success at the 2023 International Business Awards reaffirms its unwavering commitment to excellence, innovation, and delivering exceptional value to customers worldwide. As a prominent player in the electronics industry, TCL Electronics is set to redefine the technology landscape and enrich lives across the globe.