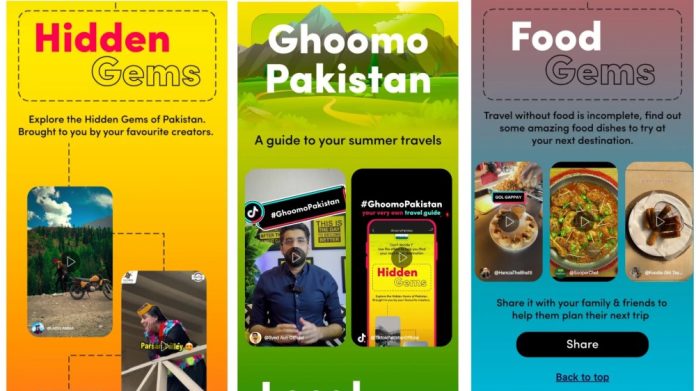 In a world driven by digital experiences and social media, TikTok #GhoomoPakistan campaign emerged as a groundbreaking initiative that not only captured the hearts of millions but also showcased the unexplored beauty, culture, and history of Pakistan. Over the course of two months, this ambitious campaign garnered a staggering 2.3 billion views, leaving an indelible mark on the global tourism map. As we celebrate World Tourism Day today, it's time to delve into how TikTok's #GhoomoPakistan campaign successfully unveiled the hidden gems of this South Asian nation while promoting responsible tourism.
The Genesis of #GhoomoPakistan
TikTok's #GhoomoPakistan initiative was born out of a vision to debunk misconceptions and reveal Pakistan's true potential as a tourist destination. The campaign aimed not only to celebrate the country's diverse beauty but also to emphasize the importance of responsible tourism. At its core, #GhoomoPakistan was a call to adventure, encouraging viewers to explore lesser-known destinations, uncover cultural treasures, and appreciate the artistry that Pakistan has to offer.
Unveiling Pakistan with Local Talent
One of the campaign's standout features was its collaboration with four prominent TikTok creators who embarked on journeys through Pakistan's most enchanting regions.
1. Rana Hamza Saif took viewers on a captivating journey encompassing Islamabad, Skardu, and Hunza, showcasing the mesmerizing landscapes and cultural richness of these areas.
2. Zenith, "The Motorbike Girl," embarked on an adventurous trip through Islamabad, Neelum Valley, and Arang Kel, providing a unique perspective on Pakistan's terrain and natural beauty.
3. Zernab Shastri and Minahil Malik ventured into the scenic beauty of Swat, Malam Jabba, and Kalam, capturing the essence of these regions with their creative storytelling.
These creators brought to life diverse stories from different terrains, capturing breathtaking landscapes along the way. Through their lens, viewers were able to witness Pakistan's stunning vistas and vibrant cultures.
The Power of Local Creators
In addition to the four featured creators, TikTok also collaborated with over 15 local travel enthusiasts. More than 100 creators contributed their videos, offering a comprehensive view of Pakistan's potential as a tourist destination. These creators shared their journeys through all provinces of Pakistan, unveiling unique routes, hidden treasures, must-try local eateries, and heartwarming stories of the people they encountered along the way. This collective effort truly demonstrated the richness and diversity of Pakistan's tourism offerings.
#GhoomoPakistan Travel Hub
To further support travelers, TikTok introduced a dedicated #GhoomoPakistan travel hub on the platform. This hub served as a one-stop resource, providing details of scenic routes, travel tips, hotel recommendations, and a special section focused on the rich culinary experiences that Pakistan has to offer. It became an invaluable tool for anyone planning to explore the country's hidden gems, making travel more accessible and enjoyable.
NIC Karachi and The Asia Foundation Celebrate Success of 4th BuiltByHer Hackathon
A Message of Responsibility and Sustainability
Saif Mujahid, Head of Content Operations and Marketing for Pakistan at TikTok, emphasized the significance of the #GhoomoPakistan campaign. He stated, "We celebrated Pakistan's diversity and beauty along with our TikTok community in Pakistan. Moreover, the campaign also underscored the significance of responsible tourism, cleanliness, respect for local cultural values, and the vital role of sustainable tourism in preserving the environment and enriching local communities." This highlights TikTok's commitment to promoting ethical and sustainable travel.
TikTok's #GhoomoPakistan campaign not only broke records with 2.3 billion views but also shattered stereotypes about Pakistan's tourism potential. It celebrated the country's breathtaking landscapes, diverse cultures, and rich history while promoting responsible tourism practices. By harnessing the power of local and global creators, TikTok has showcased Pakistan as a compelling destination for travelers worldwide. As we look back on this remarkable journey, it's clear that #GhoomoPakistan has left an enduring legacy, inspiring a new generation of explorers to uncover the hidden treasures of Pakistan.
For those eager to relive this incredible journey, a treasure trove of content awaits under the hashtags #GhoomoPakistan and #ThisisPakistan.