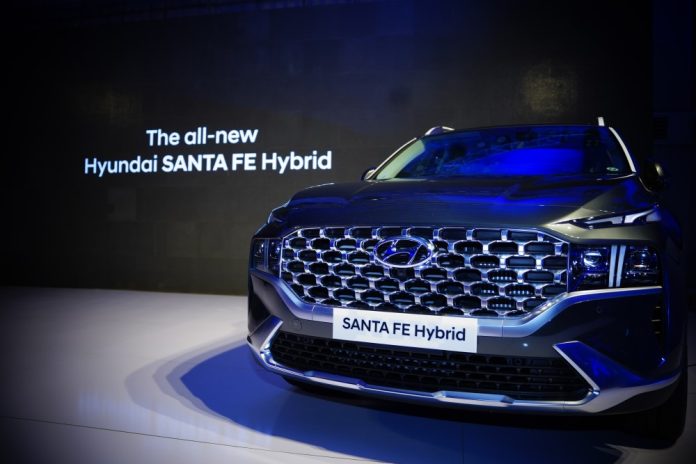 On a vibrant Sunday, the 8th of October 2023, Karachi bore witness to an exclusive event that left car enthusiasts buzzing with excitement. Hyundai Nishat Motor Private Limited (HNMPL) had organized this event to introduce Karachi to its latest automotive masterpiece, the Hyundai SANTA FE Hybrid. This event marked a pivotal moment in the city's automotive scene, as one of Pakistan's most cosmopolitan hubs got up close and personal with the future of eco-friendly SUVs.
Just a week prior to the Karachi spectacle, Lahore had its taste of the SANTA FE Hybrid, where HNMPL held a successful launch event. The enthusiastic response from Lahore paved the way for Karachi's exclusive showcase. Mr. Hassan Mansha, the Chief Executive Officer of HNMPL, expressed his satisfaction with the nationwide response, emphasizing the significance of Karachi in Hyundai's journey.
The Hyundai SANTA FE Hybrid: A Technological Marvel
The star of the show, the Hyundai SANTA FE Hybrid, is a standout in the Pakistani automotive market. It is Pakistan's very first All-Wheel Drive (AWD) 7-seater Hybrid D SUV. This means it is perfect for larger families and environmentally conscious drivers, offering both space and green innovation.
Luxury Redefined
This luxury SUV is not just about eco-friendliness; it's also about opulence. The interior of the SANTA FE Hybrid oozes extravagance, promising a premium driving experience. Spaciousness is a virtue, and this SUV does not disappoint in this regard. Whether you're cruising through the city or embarking on a long road trip, you'll find comfort and sophistication at every turn.
Performance and Safety at the Forefront
Under the hood, the SANTA FE Hybrid boasts a turbocharged engine that delivers dynamic performance without compromising on fuel efficiency. But it's not just about power; safety is a top priority. The SANTA FE Hybrid comes equipped with advanced safety features designed to protect both the driver and passengers.
Toyota Announces Over US$ 100 Million Investment in Pakistan for Local Production of Hybrid Electric Vehicle
Setting New Standards
In essence, the Hyundai SANTA FE Hybrid is a trailblazing hybrid SUV that brings together luxury, power, and safety, redefining the driving experience in Pakistan. Hyundai's vision to cater to every segment of the automobile market is evident in this masterpiece. With the introduction of the SANTA FE Hybrid, they are aiming to conquer the SUV market in Pakistan while setting new standards for innovation and luxury.
The arrival of the Hyundai SANTA FE Hybrid in Karachi signifies a significant milestone in Pakistan's automotive industry. It's not just a vehicle; it's a symbol of innovation and luxury, wrapped in an eco-friendly package. As the automobile market in Pakistan continues to evolve, Hyundai is leading the charge, and the SANTA FE Hybrid is proof of their commitment to delivering excellence to their customers.