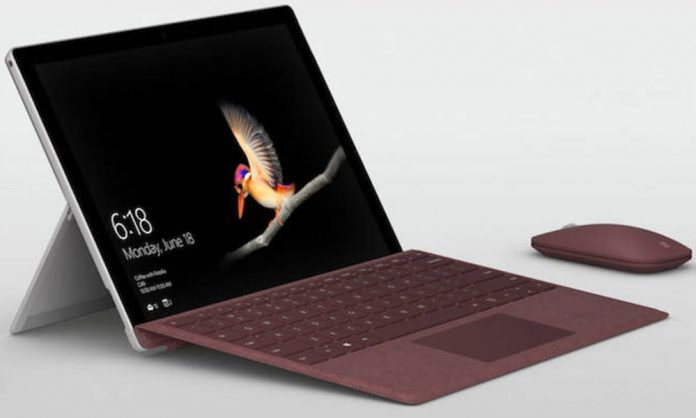 Microsoft gave a clear hint about a big news. Microsoft's new Surface Go is finally official after months of rumors and leaks. After all, the latest addition to the Surface Pro line has been over the past couple of months the subject of everything from early rumors to FCC approval to spec sheet leaks. And for the most part, the rumors were spot-on.
It's a budget 10-inch tablet designed to be a smaller and less powerful version of its predecessor Surface Pro. While the exterior of the Surface Go makes it look like a compact version of Surface Pro, Microsoft has changed a lot inside of Surface series.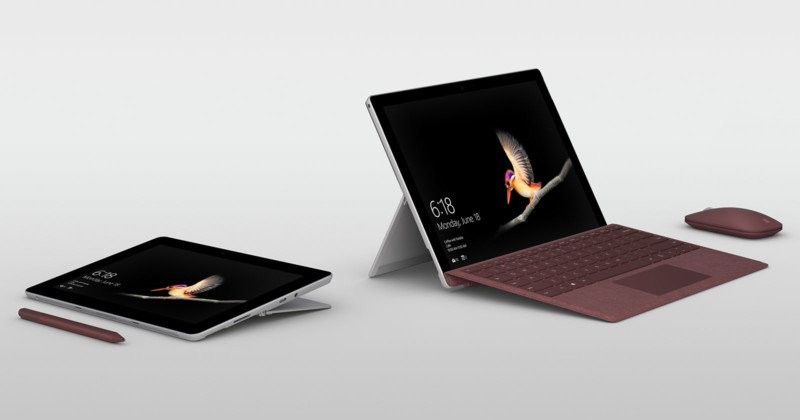 The base model is priced at $399, but it only ships with 4GB of RAM, 64GB of slower eMMC storage, and a less powerful Intel Pentium Gold processor. Prices will reaches to over $600 after adding the all-important Type Cover, more RAM, a faster SSD, and other Surface add-ons.
The display of the Surface Go is a high resolution "PixelSense" display that's supports the Surface Pen with 4096 levels of pressure sensitivity, low pen parallax, low latency, and precision.
"The custom calibrated 3:2 display is soft on your eyes while you're working and vibrantly high-contrast when you want to watch videos, create art, or edit photos," According to Microsoft.
Apple unveils all-new iPad Pro 11 and iPad Pro 12.9 (2018) with Face ID, USB-C, starts at $799, available Nov. 7, 2018
Inside the Surface Go there is a 7th gen Intel Pentium Gold Processor, a fan-less design, and a battery that provides 9 hours of backup time.
"Our team worked closely with Intel to optimize power, performance, and battery for the most critical tasks people perform every day,"
Microsoft says.
Like the iPad, I probably wouldn't recommend SurfaceGo for those looking to do a lot of typing or other office work on this device. There are plenty of cheap Windows laptops that will do these tasks for you. The combination of the Go keyboard case and the smaller footprint means it won't be ideal for typing. Let's just say that it's less than ideal. A plane's seat-back tray table, on the other hand, is a pretty solid application. And the nine hours of battery life should get you through most flights. The keyboard case isn't bundled with the Surface just yet, so that will raise the price another $99.
According to Microsoft's benchmarks, SurfaceGo provides 33 percent faster graphics than a Surface Pro 3 with an Intel Core i5 chip and 20 percent faster graphics performance than a Pro 3 with Core i7 chip. I didn't get a whole lot of hands-on time with the Go, but Windows 10 ran smoothly on it.
Other specs and features that included are a built-in kickstand, a Windows Hello camera, a Surface Connect port (for charging and docking), a USB-Type C 3.1 port, a headphone jack, and a MicroSD card reader for storage expansion. The Microsoft Surface Go will be start selling from August 2nd, 2018 with a price tag of $399. An LTE model will be launching later in 2018. The Surface Mobile Mouse will cost $35. Pre-orders for both devices begin today.