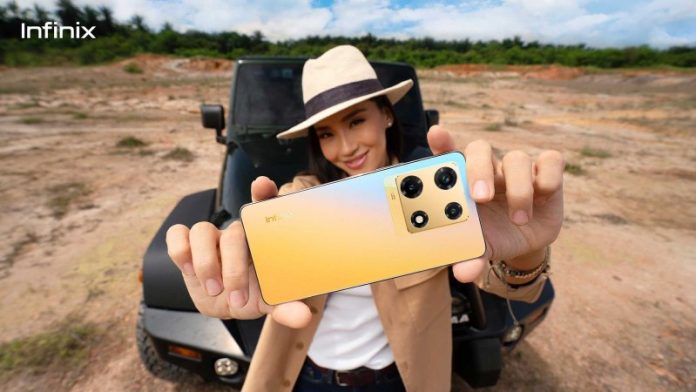 In the ever-evolving landscape of technology, Infinix has emerged as a formidable player with its ground-breaking Infinix NOTE 30 Pro series, transcending conventional market boundaries and captivating the attention of tech enthusiasts globally.
The recent unveiling of the highly anticipated NOTE 30 Pro series by Infinix has marked a significant milestone, introducing an extraordinary All-Round FastCharge technology designed to cater to the demands of modern youth. This exceptional series has not only garnered extensive media coverage but has also been met with resounding acclaim for its remarkable 68W fast charging capability, striking design aesthetics, cutting-edge features, and remarkable affordability.
Unveiling the Pinnacle of Excellence
The Infinix NOTE 30 Pro series has made an indelible mark on the smartphone landscape, leaving both consumers and critics in awe of its unparalleled attributes. With the fervor of a true tech connoisseur, prominent technology media outlets have conducted comprehensive evaluations of the series, unveiling a host of features that have set new benchmarks in the industry.
Diving into the Praises of Tech Gurus
The discerning eyes of tech influencer SuperSaf, hailing from the United Kingdom, have meticulously dissected the intricacies of the Infinix NOTE 30 Pro series. A standout feature that left SuperSaf genuinely impressed is the groundbreaking 68W wired fast charging capability, complemented by a seamless 15W wireless fast charging prowess.
In his glowing review, SuperSaf enthusiastically expressed, "The Infinix NOTE 30 Pro is akin to discovering a rare gem within the bustling smartphone market, as it seamlessly integrates wireless fast charging at a highly competitive price point." An undeniable revelation, the NOTE 30 Pro distinguishes itself as the pioneer in its price category to embrace wireless fast charging technology.
Even the budget-friendly variant, the NOTE 30, didn't escape SuperSaf's astute observations. He notably lauded, "The Infinix NOTE 30 carves out a distinct niche within the realm of budget smartphones." This budget-friendly option boasts a captivating array of features, including a swift 45W fast charging system, an immersive 120Hz display, and an expansive storage capacity of up to 16GB+256GB. All these remarkable attributes are seamlessly woven into an irresistibly competitive price tag.
Accolades from the Tech Titans
Esteemed tech media entity GSMArena hailed Infinix's audacious endeavors, remarking, "Infinix's unbridled ambition shines through, evident in its aspiration to rise above its current standing—a determination that we wholeheartedly admire."
The Infinix NOTE 30 emerged as a beacon of endurance, surpassing expectations by clocking an astounding 119 hours in arduous endurance tests. GSMArena astutely noted, "The result surpasses even our most optimistic projections, underscoring the prowess of the chipset and battery amalgamation within the Note 30. Standby endurance, in particular, stands out as exemplary."
Beyond endurance, the NOTE 30's 45W fast charging prowess left an indelible impression. The device boasts an innovative all-scenario fast charging ecosystem equipped with bypass, reverse, and smart functionalities. These groundbreaking features enhance the charging experience across diverse scenarios. The bypass charging function, for instance, empowers the phone's motherboard directly, mitigating battery strain and elevating gaming performance—a quintessential element for dedicated mobile gamers. GSMArena underscored this game-changing attribute, noting, "This feature, especially beneficial for gaming, has the potential to substantially extend battery life."
A Symphony of Sound and Vision
Renowned American tech influencer SomeGadgetGuy conducted an exhaustive sound quality assessment of the NOTE 30 Pro, accentuated by JBL tuning, in a quaint bedroom setting. The outcome was nothing short of remarkable, with pristine audio quality and minimal distortion. SomeGadgetGuy concluded with a resounding nod of approval, "The sound quality is undeniably impressive." The device's display also caught his discerning eye, with its adaptive transitioning between 60Hz, 90Hz, and 120Hz—a technological marvel poised to deliver an unexpectedly delightful visual experience to users.
Worldwide Acclaim
Globally influential technology hubs, 9to5Google and GizChina, lauded the cost-effectiveness of the Infinix NOTE 30 series. 9to5Google proclaimed the NOTE 30 as a front-runner within its price bracket, bestowing an enhanced user experience upon American consumers. Meanwhile, GizChina bestowed an impressive rating of 4.4 points upon the Infinix NOTE 30 Pro, deeming it an undisputed "TRUE VFM WINNER." Both reviews underscored the series' exceptional aesthetic finesse, robust hardware performance, captivating display quality, and the comprehensive fast charging ecosystem of the NOTE 30 Pro.
Get ready to "Be Light", Infinix INBook X1 series announced in Pakistan
A Vision of the Future
In summation, the technology media landscape has resonated with unanimous praise for the Infinix NOTE 30 Pro series, wholeheartedly recognizing its unparalleled performance and remarkable value proposition. The series stands as a testament to Infinix's commitment to innovation and excellence. As the year progresses, the Infinix NOTE 30 Pro series is poised to ascend the echelons of the smartphone realm, solidifying its dominance and reshaping the industry's landscape. This ground-breaking series is undoubtedly a harbinger of the remarkable possibilities that lie ahead in the dynamic world of technology.