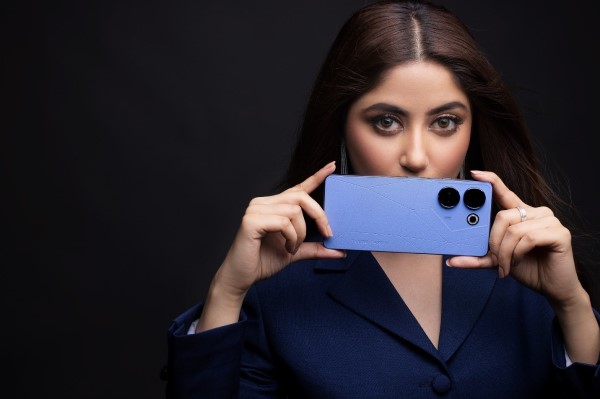 In a momentous occasion that sent ripples through the tech and fashion spheres, TECNO, the pioneering mobile giant in Pakistan, lifted the curtains on its highly anticipated CAMON 20 series on the resplendent evening of Monday, 7th August. The stage for this grand revelation was set with a digital fashion gala that unfolded live on the official channels of TECNO Mobile Pakistan, as well as the illustrious Daraz app.
Amplifying the allure of this epochal event, TECNO chose none other than the illustrious luminary, Sajal Aly, to stand as the illustrious face of the CAMON 20 series. A luminous presence throughout the event, Sajal Aly lent her unparalleled star power and charismatic magnetism, infusing the atmosphere with an air of glamour and sophistication.
Transcending the boundaries of conventional launches, this virtual fashion fiesta was ingeniously designed to immerse patrons in an unparalleled experiential journey. Bridging the gap between digital marvels and the comfort of one's abode, the event featured an array of interactive engagements, replete with delightful surprises that beckoned participants from every corner of the nation. An enticing medley of contests and giveaways awaited, promising a chance to seize coveted prizes that would surely stoke the fires of anticipation.
For connoisseurs of cutting-edge technology, impassioned photographers, and discerning fashion aficionados, the CAMON 20 series emerges as a paragon of meticulous design and innovation. With camera prowess that borders on the sublime, accompanied by a symphony of cutting-edge technologies, this series is enrobed in a sleek, resplendent aesthetic—a testament to its groundbreaking CAMON PUZZLE Deconstructionist Design, an industry-first marvel. Brimming with promises of an immersive user odyssey that transcends all prior benchmarks, the CAMON 20 series casts its net wide, encompassing the CAMON 20, CAMON 20 Pro, CAMON 20 Pro 5G, and CAMON 20 Premium, each tailored to cater to a kaleidoscope of global user preferences.
Speaking on this epochal launch, Jack Guo, the sagacious General Manager of TECNO, elucidated, "TECNO CAMON 20 amalgamates innovative technologies and contemporary design, forging an unrivaled fusion within a single high-performance series. Life unfurls in an array of moments, many of which merit preservation. The advanced portrait and video technologies of the TECNO CAMON 20 empower users to capture these ephemeral emotions, etching them in sharper, crisper detail. Add to that its resplendent aesthetic, superlative quality, and an experiential journey that stands unparalleled, and you have in your hands a veritable maestro."
The exquisite CAMON 20 Series is adorned in resplendent shades of Predawn Black and Serenity Blue, with the CAMON 20 variant already gracing the online emporiums of the official TECNO Mobile Pakistan website, the esteemed Daraz App, as well as a host of brick-and-mortar outlets that stretch across the length and breadth of the nation. As the curtains draw to a close on this remarkable event, the CAMON 20 series takes its first steps into the world, a trailblazing testament to innovation, style, and technological prowess.