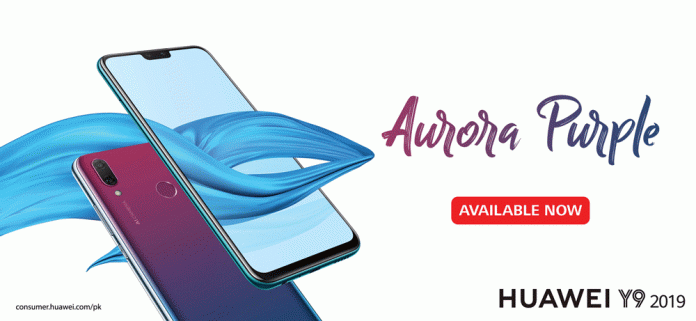 Lahore – Thursday, 15 November, 2018: HUAWEI Y9 2019 has been getting all the love from Pakistan and Huawei gives yet another reason to excite its fans. The smartphone – touted as the midrange king is now available in a dreamy Aurora Purple color. A truly high tech smartphone, the HUAWEI Y9 2019 is embedded with Artificial Intelligence and is the successor to the HUAWEI Mate 10 lite – another midrange supremo.
HUAWEI Y9 2019 is further enriched with Huawei's most advanced Graphics Processing Acceleration Technology (GPU Turbo), to improve the graphics-processing efficiency by 60%, while reducing SoC power consumption by 30%. This system enables games to run faster than 60 fps. This "Entry-Level Flagship Device'' is designed by experts as a "Young and Excellent" product that features a 6.5-inch, notched FullView Display and Quad-camera in a sleek design.
Google Pixel 3, Pixel 3 XL, Pixel SLATE and Google HomeHub officially announced, Release Date, Price, Features & Specs
The long-awaited HUAWEI Y9 2019 boasts the latest Kirin 710 octa-core chipset and a massive storage to offer up to 75% more power that enriches the gaming experience with more speed and smoother operations, to meet the entertainment needs of the younger segment of consumers, as it allows upgrades and development in gaming and video features.
The new generation 6.5″ HUAWEI FullView Display, with a high screen-to-body ratio provides a seamless bezel-less experience. The 16MP+2MP front dual camera and 13MP+2MP rear dual camera boast AI scenario sensing – a trend set by Huawei in smartphone photography. It detects 22 AI scenarios and adjusts camera settings to get the best photos.
Huawei P30 Pro: 12GB of RAM with 5 Cameras, Release Date, Price, and Phone Specifications
Other smart features include; Fingerprint 4.0 identification, Simple Mode for elderly users, Games-Suite, Karaoke mode, Party mode and Histen 5.0, to offer delightful entertainment, while the TÜV Rheinland certified 'Eye-Comfort Mode' makes e-books reading a real pleasure. PR