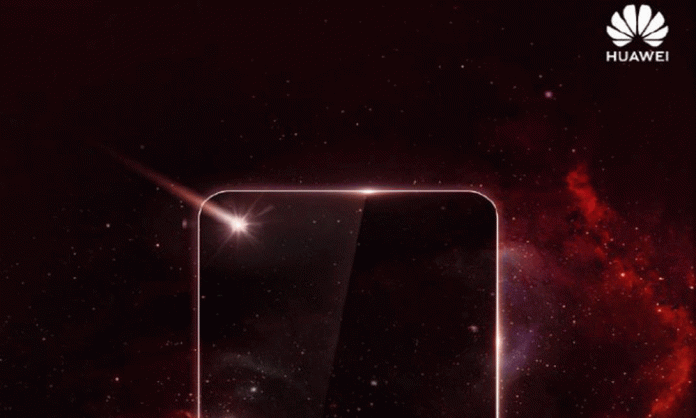 Huawei is poised to launch a new device with an unprecedented screen in the smartphone world, confirming its clear ambition to lead the market in the coming years, according to media reports.
The confirmation comes in the form of a teaser image, published to one of Huawei's Weibo accounts and shows the front view of a smartphone with a hole in the upper left corner of the screen. This image also shows the month – December which propably the month of that device's specifications reveal and trailer.
According to that picture, which has been widely circulated in Chinese social sites, the phone will come with a spacious front screen that will have no buttons except for a small circle at the top left. This circuit will be integrated into the screen, and will include the front camera.
Our correspondent said the screen design would cover 360 degrees from the front of the phone, adding that Huawei was racing to make the phone available before any other company.
If the expectations are correct, the screen will fully cover the front, blocking the sensor fingerprint, front camera lens and speaker, as well as eliminating the edges.
A few days ago, a patent filed by Samsung revealed that the South Korean company is also out of the ordinary in its products, and produces a leading smartphone, different from previous devices in terms of front screen design.
The details show that Samsung will also rely on a spacious front screen with a built-in camera on the top left. But because it's impossible to know which of the two companies came up with this concept first, the real question is who can do it better?
"The competition" between the two companies may end with the superiority of Huawei, which will precede Samsung in the introduction of the phone.
It is expected that Huawei will release its new device next month, with the launch of the Samsung phone in early 2019.
HUAWEI Y9 2019 Comes in an Exquisite New Colour – The Aurora Purple
Some reports leaks that the phone might have:
22-inch Full HD AMOLED screen
Kirin 980 processor
Up to 8GB of RAM and 256GB of storage,
Under-display fingerprint sensor
25-megapixel camera
Rear dual-lens camera (20-megapixel and 12-megapixel sensors)
4,230 mAh battery