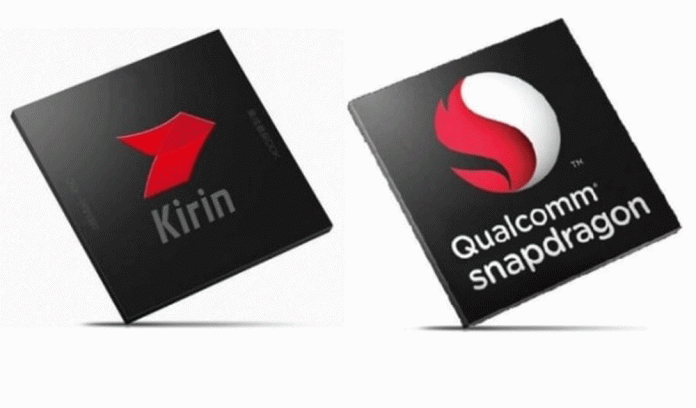 Qualcomm announced that OnePlus will be one of the first companies to release 5G phones while announcing its latest processor, the Snapdragon 675, which will be available in the middle class, while Huawei's HiSilicon announced Its most powerful processor, the kirin 980, which is claimed to be better than the new Apple processor. Have a look on both that which one is better.
The Snapdragon 675:
The new processor is very similar to the Snapdragon 670 processor but came with some improvements, the new processor comes with eight cores, two of which are allocated for difficult and complex operations, while other cores take care of uncomplicated tasks which take less power consumption and so on.
The Adreno 612 processor will still exist, and there is a great improvement in the level of gaming, both in terms of smooth play or graphics, and gave the company a great interest in the camera.
Nowadays phones are supported by a three-way back cameras that opens the door for all middle phones to create stunning pictures. This wave began to appear on the middle phones, as we saw on the Samsung Galaxy A7 2018, which came with a camera back three-lens first comes 24 megapixels, It has an optical stabilizer, the second lens is responsible for wide angle photography, and the third camera is responsible for the background isolation and thus helps to take very good portrait images, and this camera is the first camera in the middle phones come with a triple lens, so after the release of this Snapdragon 675 We crave to join a lot of companies to this wave which is started by Samsung.
The Kirin 980 Processor:
Huawei Mate 20 and Huawei Mate 20 Pro, the Huawei Mate 20 RS Porsche Design, and others great phone have also been announced. Phones with a giant screen, like Huawei Mate 20 X, all of these phones came with the processor kirin 980, and we will display the special features of this processor.
– The processor is based on a 7 nm architecture making it superior to the Snapdragon 845 processor.
– The processor consumes much less energy than previous generations of kirin processors.
– dealing with games has become much better than before as the phone has become a temperature does not rise when playing games for long periods.
– Artificial intelligence in the processor has been improved, making the phone capable of taking pictures using artificial intelligence and thus making image quality much better than before.
– New phones have been able to get a modem connection speed of about 1.4 Gbps This is a very powerful feature.
– Phone performance has become faster and smoother than previously very clearly and will not face any problems with new phones.
Conclusion:
Both of the processors Snapdragon 675 and kirin 980 looks quite perfect and performance worthy, but only time shows which processor is better, and after the announcement of Apple's A12X Bionic processors with the eight-cores 7-nanometer processor, which used in its latest iPads the competition became more and more interesting.