Buy Samsung or Xiaomi, that is the question? India has now become ground zero for the smartphone manufacturers. Last year, the country surpassed the U.S. to become the world's second largest smartphone market, and manufacturers are rushing to conquer this booming market.
Microsoft's $399 Surface Go takes on the Apple iPad and Google Chromebook
In India, Samsung and Xiaomi are performing far more better than the other popular smartphone brands, but the Xiaomi pulled ahead from recent few months. Now, a new report from research firm Canalys shows Samsung has virtually closed the gap, citing a renewed focus on low-cost devices. Samsung and Xiaomi have been the two biggest winners in the recent quarter. Samsung had also announced that it will be doubling down its efforts in the country with a factory it's deemed the world's largest.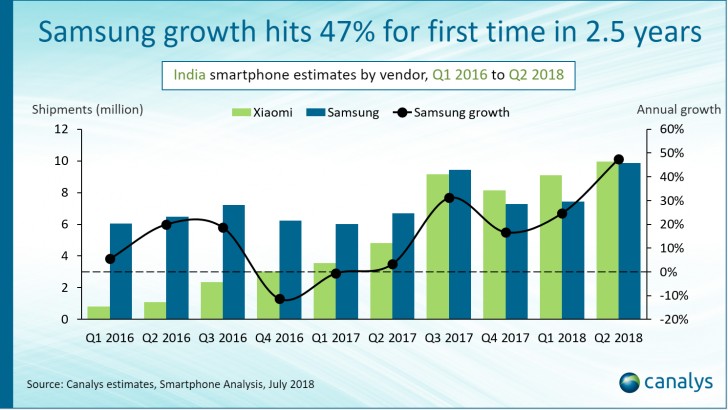 Samsung and Xiaomi together made up 60 percent of India's total mobile shipments, which is a jump from 43 percent last year. Vivo and Oppo round out the list, tallying 11 percent and 10 percent of shipments, respectively. Samsung's most popular model was the Samsung Galaxy J2 Pro. Xiaomi, on the other hand, sold 3.3 million units of the Redmi 5A, a budget version of its Redmi Note 5. Overall smartphone shipments grew by 22%, to just under 33 million units, according to Canalys.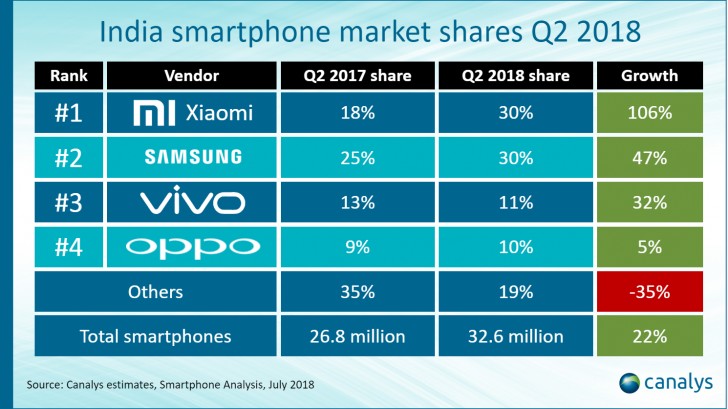 iPhone is not performing so much well in India, it's market fell 50% during the quarter. Its strategy is quality over quantity, which will help it maintain profitable margins. Asus is changing up its strategy by going exclusively with one of the biggest online retailers in India "Flipkart", which a couple of months back join its ground with Walmart, this helped Asus to triple its shipments, as the company adjusts its strategy in the country.