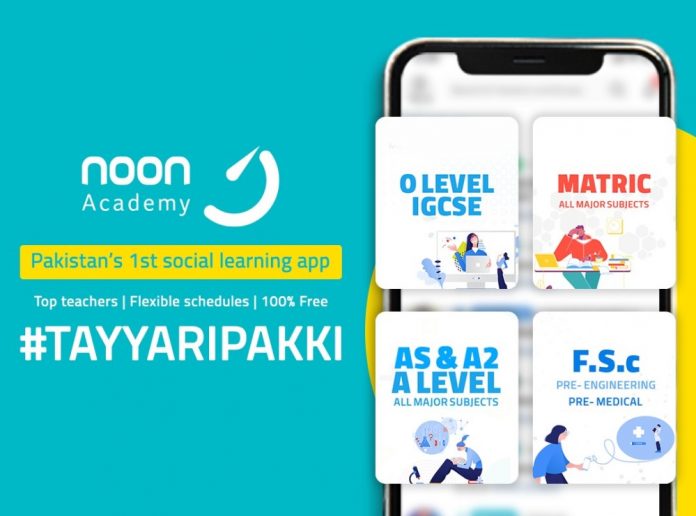 Noon Academy application is offering students across Pakistan daily live classes from the leading teachers in the country for free.
Students affected by the challenges post Covid-19 can enroll in comprehensive preparation courses for summer exams of grades 8-13, all major local boards (Matric & Intermediate) and Cambridge (O & A-levels), which are now live.
Noon Academy, an international EdTech startup that is pioneering the concept of social learning, has expanded its online studying platform to Pakistan.
Government announces closure of all educational institutions for one month from November 26
They offer daily live classes for all major subjects from Pakistan's leading teachers, completely free through their mobile application and website.
Their live classes coverall major subjects for classes 8-13 for all major local boards (Matric & Intermediate), Cambridge (O& A-Levels), and different universities' entrance tests such as LUMS, IBA & NUST. Kickstarting its local operations in September, 2020, the platform has already grown to 200,000 students in January.
Students who are affected by the challenges post Covid-19, can prepare for their upcoming exams through comprehensive preparation courses which are taught by highly qualified teachers, completely online, accessible from the safety of their homes and adapted for the smart syllabus.
Haleeb Foods donates PKR 1 Million to Master Ayub in a bid to promote education
Noon Academy is one of the fastest-growing EdTech startups in the world. Currently headquartered in London, they started off in 2013 with an idea that technology can have a multiplier effect by connecting the best teachers to students anywhere.
Over time through it has transformed into a social learning platform using interactive elements such as gamification, study groups, team-based learning and contests.