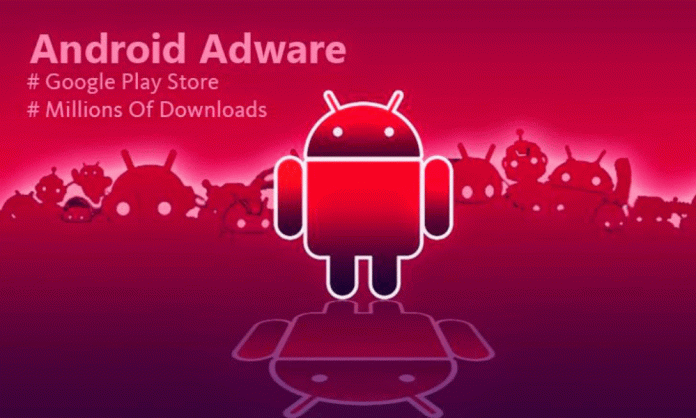 Another warning for Android phone users from fraudulent applications that hit millions of phones, and of course this is not the first time Google Android devices are exposed to such risks, but the pace is increasing.
These Rogue apps can monitor your screen and push hidden ads to your phone which means making money by scammers on your account.
Apps are perfectly normal games, remote control apps, or apps to watch TV, but they're actually an evil trick run by scammers looking for quick money at your expense.
Even worse, many applications do not even perform the function they promised, making them doubly elusive.
According to a new report by experts Trend Micro Security Trend, the number of affected by these applications to 9 million users of Android phones.
A total of 85 applications were listed in the report, all available for download on the official Google Play Store, and the legality of the store meant that shuffle applications were able to collect millions of downloads.
These apps are a kind of malware known as "adware," which relies on ads to make money.
These ads can be annoying, occupy the entire screen and are often designed to be difficult to skip.
Ads can sometimes be hidden in the background, which can drain your phone's battery, data, and processing power as fraudsters continue to make money on your account.
One of these applications was "Easy Remote TV Remote," which allows you to control your TV with your smartphone, has installed this app more than 5 million times, but has found that it contains lots of ads.
In general, the applications you should delete that include these malwares are as follows:
3D Racing
A/C Remote
American Muscle Car
Brasil TV
BRASIL TV
Brasil TV
Bus Driver
Bus Simulator Pro
Canada TV Channels
Canais de TV do Brasil
Challenge Car Stunts Game 3D
CHILE TV
Christmas Stickers
CIty Extremepolis
Drift Car Racing Driving
ESPAÑA TV
Extreme Trucks
FRANCE TV
GA Player
Garage Door Remote
Golden Apps
Hearts Stickers
Idle Drift
ITALIA TV
Love Stickers
Monster Truck 3D
Moto Racing
Movies Stickers
Mustang Monster Truck Stunts
Nigeria TV
Offroad Extreme
Parking Game
Photo Editor Collage
Photo Editor Love Frames
Pirate Story
Police Chase
POLSKA TV
PORTUGAL TV
Prado Car
Prado Car
Prado Parking
Prado Parking City 3D
Prado Parking Simulator 3D
Racing Car 3D
Racing Car 3D Game
Racing in Car 3D Game
Real Drone Simulator
Remote Control
SOUTH AFRICA TV
South Africa TV (com.goldapp.selfie.editor)
South Africa TV (racingcar.game3d.champions)
Spanish TV
Kisses Stickers
SPORT TV
SPORT TV
SPORT TV
TDT España
Televisão do Brasil
Trump Stickers
TV BRASIL
TV Colombia
TV EN ESPAÑOL (com.ankanetwork.planetatierra)
TV EN ESPAÑOL (com.yinyang.tux)
TV IN ENGLISH
TV IN ENGLISH
TV IN SPANISH
TV LIST
TV of the World
TV Remote
TV Remote
TV Spanish
TV WORLD
TV World Channel
UK TV
Universal TV Remote
USA TV
USA TV
Vietnam TV
WORLD TV
World Tv
WORLD TV
WorldTv
Ελλάδα Τηλεόραση
РОССИЯ ТВ