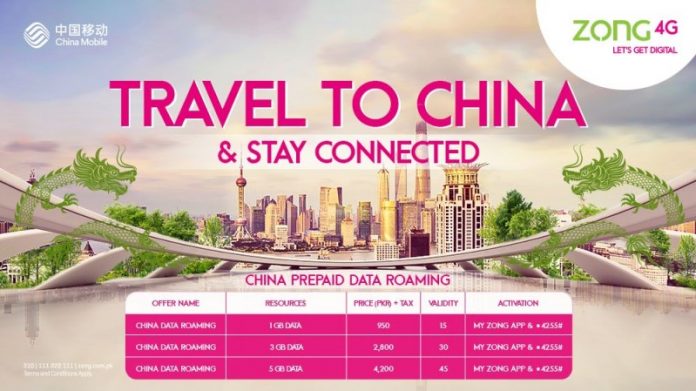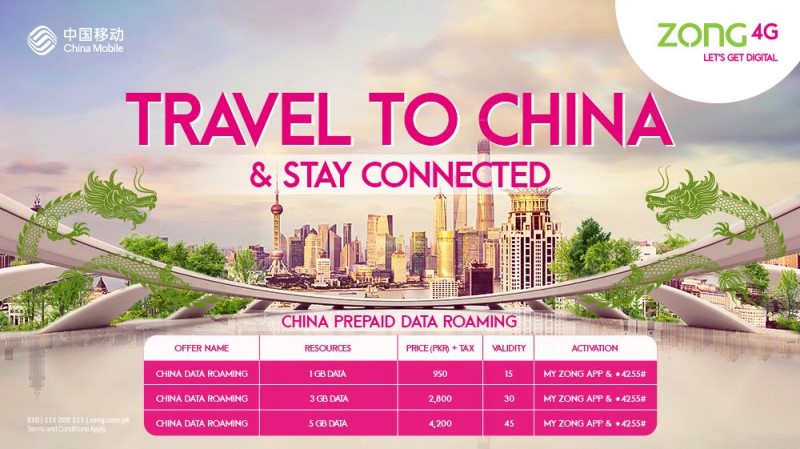 In an era where staying connected while abroad is no longer a luxury but a necessity, Zong 4G, Pakistan's leading 4G network, has once again raised the bar by introducing six innovative roaming offers tailored specifically for travelers to China.
Committed to putting customers first and at the forefront of technological advancement, Zong 4G is redefining the concept of international roaming with a range of bundles that promise not just connectivity, but a truly convenient and cost-effective solution for anyone venturing into the bustling landscapes of China.
Whether it's for a business expedition or a leisurely exploration, Zong 4G's new roaming bundles are poised to transform your travel experience. The offerings consist of three hybrid bundles, each combining voice, SMS, and data options, alongside three data roaming buckets for data-hungry globetrotters.
Introducing the Bundles:
1. China Roaming offer (30mins, 30 SMS and 1 GB): Priced at just 1,600+tax, this bundle grants you 30 minutes of talk time, 30 SMS, and a generous 1 GB data allowance to keep you effortlessly connected during your 15-day stay in China.
2. China Roaming offer (60 mins, 60 SMS and 3 GB): For a more extended trip, the 60-minute talk time, 60 SMS, and 3 GB data package at 3,900+tax are tailor-made for a month-long sojourn in the Middle Kingdom.
3. China Roaming offer (90 mins, 90 SMS and 5 GB): The ultimate bundle, priced at 5,900+tax, bestows travelers with a whopping 90 minutes of talk time, 90 SMS, and a generous 5 GB data allocation, ensuring a seamless connection during a 45-day escapade.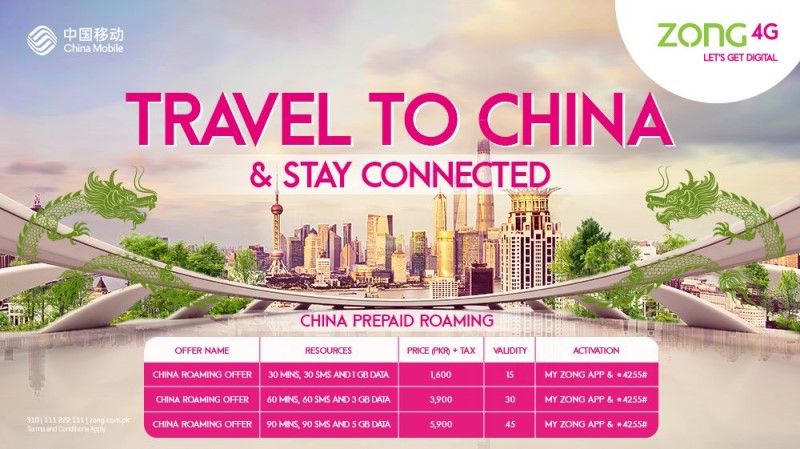 Data Roaming Buckets for Data Enthusiasts:
1. China Data Roaming offer (1 GB): For light data users, the 1 GB package priced at 950+tax guarantees a 15-day data lifeline to navigate through the vibrant streets of China.
2. China Data Roaming offer (3 GB): Providing ample data muscle, the 3 GB bucket priced at 2,800+tax ensures connectivity over a 30-day period, perfect for staying updated during your extended stay.
3. China Data Roaming offer (5 GB): The heavyweight data solution, a 5 GB bundle at 4,200+tax, caters to those with insatiable data needs, spanning across a comfortable 45-day duration.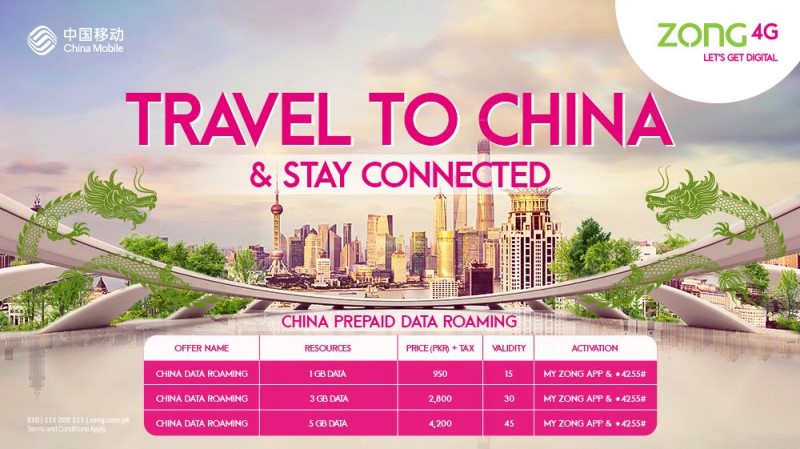 A spokesperson for Zong 4G reiterated the company's unwavering commitment to enhancing customer experiences: China's stature as a prominent hub for business and tourism amplifies the significance of this groundbreaking offering. With access to popular platforms like WhatsApp, Zong 4G's roaming package is set to revolutionize communication for travelers seeking a reliable and affordable solution while on the move.
Subscribing to these feature-packed bundles is a breeze. Visit the Zong website (https://www.zong.com.pk/onlineshop/ir-bundles) or use the convenient My Zong App to access and activate your desired bundle. Alternatively, a simple dial to *4255# will grant you access to these game-changing offers.
In a world where staying connected has never been more vital, Zong 4G's new roaming bundles for China transcend mere connectivity, delivering a realm of convenience, affordability, and unmatched connectivity to empower travelers as they navigate the wonders of China.