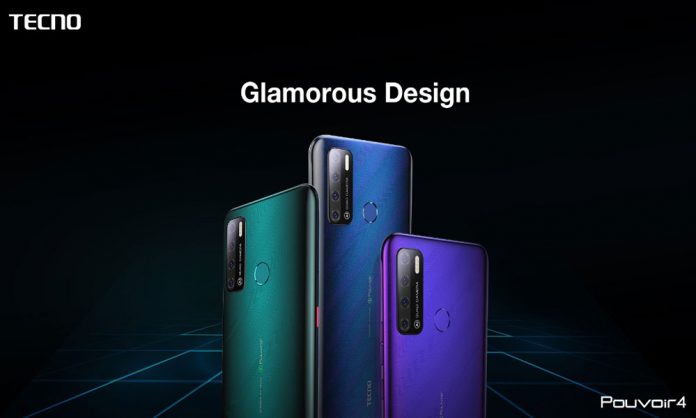 Press Release – While there are various mobile options out there in the market, people do consider searching out a brand's image, mobile performance, sleek appearance, good reviews, and price affordability before buying.
Unfortunately even bigger brands fail to provide all these key factors at a reasonable range. Hence, one of the premier smartphone brands TECNO has worked in this regard and has launched its new power-packed series Pouvoir 4 in this regard.
The series comprises two editions Pouvoir 4 and Pouvoir 4 Pro. Their fascinating spacious size screen differentiates them from others in the market. They are specially designed with an alluring gradient theme and come in vibrant colors of Cosmic Shine, Ice Jadeite, and Fascinating Purple. This startling look is further enhanced with a huge 90.55% super screen ratio, dual stereo speakers, and spectacular 4 quad-lens cameras with a powerful chipset.
TECNO 100 Million Discount Offer 'Double Your Happiness' Coming Soon
Furthermore, the 7-inch screen will give you a magnificent display to watch your favorite videos. The phone provides 720×1640 pixel resolutions and a dewdrop notch on the screen to house the front camera and extract more screen real estate.
This high-resolution quality will let you submerge in the beautiful visual excellence. It is also equipped with sensors like a fingerprint scanner at the back which may be found in a costly handset but due to TECNO's advanced breakthrough research you can also find it in Pouvoir 4 at a great deal.
Moreover, the outstanding smooth HIOS 6.0 software based on android Q gives non-lagging experience while playing your favorite games like PUBG and is further supported by a strong 6000mAh battery to run your mobile for three days with just a single charge of 18W.
Will all these A+ features people might assume the series range is quite high but surprisingly the price of Pouvoir 4 is Rs.17, 999, and Pouvoir 4 Pro at Rs. 24,999. This is a rational cost not only for all phases of income holders but also for students as well.
Vivo V19 launched in Pakistan with Dual iView Display and Super Night Mode
TECNO is a brand of technological excellence and is prominent for providing impressive superior performance on a local scale. The all-rounder Pouvoir 4 series comes with paramount qualities and allows you to avail of the best features at a decent figure.
Hence, if you are looking for a modish branded mobile without breaking your budget then this is the right time to go for it. Pouvoir series are now available all across Pakistan thus if you are interested in buying then you can visit your nearest retail store and can avail of this marvelous device.